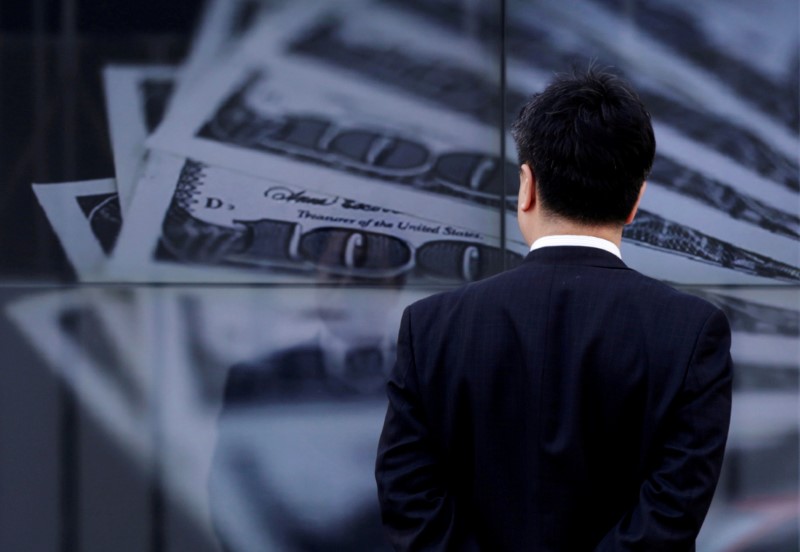 © Reuters.
By Gina Lee
Investing.com – The dollar was down on Monday morning in Asia, with investors awaiting updates on U.S. President Donald Trump's health after he and his wife Melania Trump tested positive for COVID-19 during the previous week.
The US Dollar Index Futures that tracks the greenback against a basket of other currencies edged down 0.13% to 93.787 by 10:12 PM ET (2:12 AM GMT).
Trump's diagnosis adds further uncertainty and volatility to his campaign to be re-elected in the Nov. 3 presidential election against Democrat nominee Joe Biden, who has tested negative for the virus.
"With not a lot of major economic indicators released this week, the focus all comes down to Trump's illness … there is a welter of information about the severity of his condition, and that is making it difficult for market participants to make a move," Sumitomo Mitsui (NYSE:SMFG) Bank chief strategist Daisuke Uno told Reuters.
Although the medical team treating Trump stated that he could be discharged from Walter Reed National Medical Center, where he has been receiving treatment, the team's release of contradictory information about Trumps health caused confusion among investors.
Trump also surprised supporters outside the medical facility on Sunday as he rode by in a motorcade.
"Earlier, some traders bought back dollars and U.S. stock futures immediately after the news came out about Trump briefly leaving the hospital … but I don't think it means that he has been completely cured." Sumitomo Mitsui Bank's Uno warned.
The focus will remain on the presidential election, with Mike Pence and Kamala Harris to spar in the vice-presidential debate scheduled for Wednesday. However, hopes that the U.S. Congress would pass the latest stimulus measures ahead of the election faded after House of Representatives speaker Nancy Pelosi highlighted areas of disagreement with Senate Republicans, although she added on Sunday that progress was being made.
The USD/JPY pair edged up 0.19% to 105.53.
The AUD/USD pair was up 0.34% to 0.7187 and the NZD/USD pair was up 0.20% to 0.6648 ahead of Auckland lifting COVID-19 restrictions by midnight on Oct. 7.
The GBP/USD pair inched up 0.12% to 1.2946. The U.K. and the European Union (EU) are entering the final round of Brexit negotiations, with U.K. Prime Minister Boris Johnson and European Commission president Ursula von der Leyen, agreeing to 'intensified' talks during a phone call on Saturday. Johnson added on Sunday that although he wished to reach a trade deal with the EU ahead of the transition period's expiry in December, a no-deal Brexit is an outcome that the U.K. could accept.
The USD/CNY pair was flat at 6.7908, with Chinese markets closed for a holiday.
Meanwhile, central banks will also be a focal point, ahead of the Reserve Bank of Australia's policy meeting on Tuesday and the U.S. Federal Reserve and European Central Bank (ECB) both due to release the minutes from their September meetings.