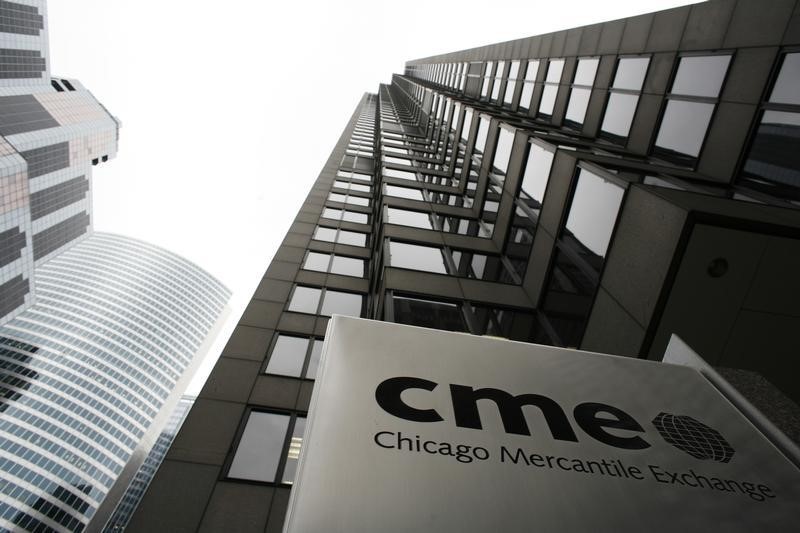 © Reuters. CME Reports a Second Coronavirus Case in Eurodollar Options Pit
(Bloomberg) — CME Group Inc. (NASDAQ:CME) has notified members of a second case of the novel coronavirus on its eurodollar trading floor, fueling concern that the exchange may seek to close the options pit once again.
The Chicago-based bourse said "an individual in our trading floor community has tested positive for Covid-19," according to a memo sent to members. The infected person last accessed the eurodollar options pit Wednesday and continues to be asymptomatic, it said. The pit continues to operate.
This is the second time CME has had to notify traders of a Covid infection in the eurodollar options pit since the bourse reopened it on Aug. 10, following a nearly five-month closure. The exchange notified members Monday of the first case, involving someone who had recently spent time on its trading floor. It said at the time that the person had reported symptoms that morning and was last in the pit on Friday.
"We are contacting those who may have been in close contact with this individual, requesting that they self-quarantine," CME said in the Wednesday memo. "In addition, as part of our regular cleaning protocols, the trading floor has been disinfected since this individual was last in our building."
CME had already warned that social distancing was difficult in open-outcry trading environments and required anyone trading on the floor to sign a waiver accepting the risks of catching the coronavirus. Pit access is limited to members and their employees, plus CME trading floor staff, who all undergo a temperature screening when entering the building. Face masks are required, and movement within the pit is restricted.
A second case could threaten to force CME to close the trading floor again. The bourse had only brought back floor trading in eurodollar options, while other pits including for corn and soybeans remain closed. When asked whether the CME would consider a second shutdown, a spokeswoman said, "We continue to monitor the circumstances of any confirmed case on our trading floor and will communicate that information to our trading community."
The company is far from being the only organization grappling with a return to the office. But with its pits representing one of the last bastions of open-outcry trading globally, the exchange faces its own unique challenges with trades traditionally negotiated by people congregating and calling out to each other across a room.
©2020 Bloomberg L.P.